Posted on: January 12, 2023, 02:26h. 
Last updated on: January 12, 2023, 02:26h.
Sports betting retained some viewers during what was otherwise a major bust for ESPN and the NCAA during Monday night's College Football Playoff (CFP) National Championship.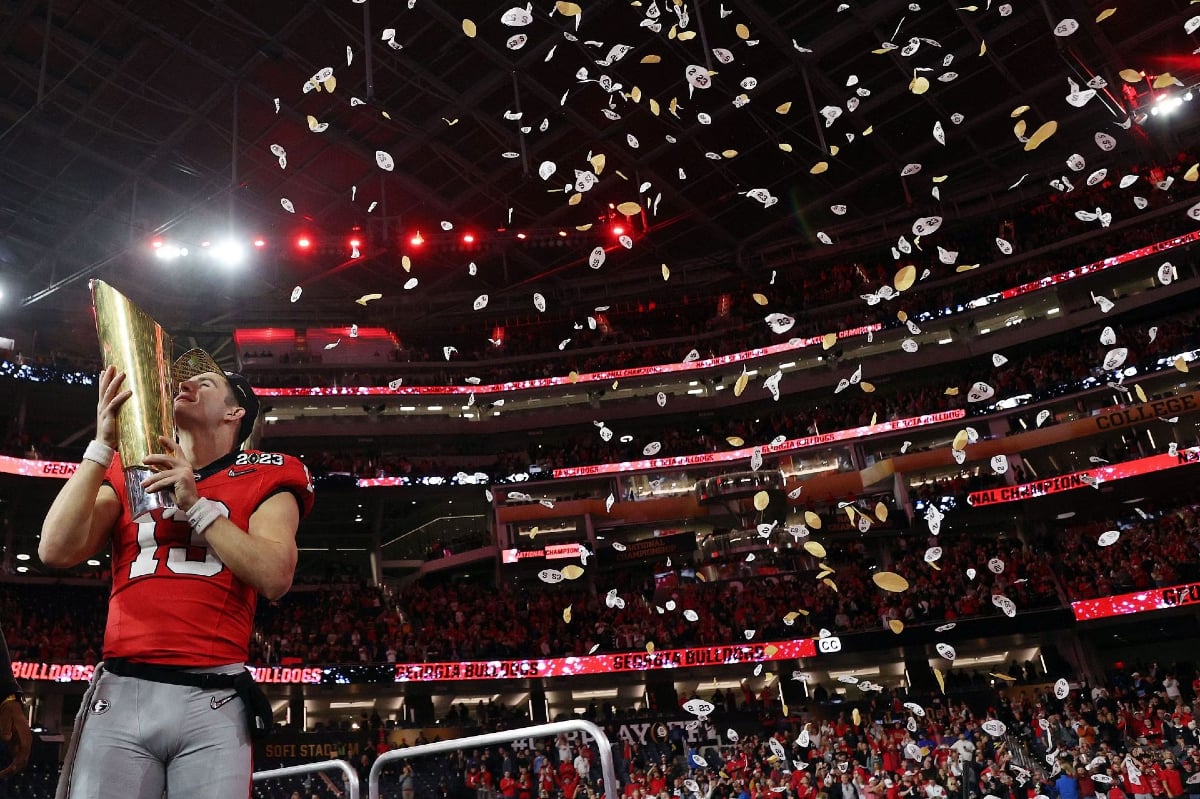 Georgia's 65-7 blowout of TCU naturally led to dismal ratings. Nielsen reported that the college football title game averaged just an 8.7 rating and 17.22 million viewers across the ESPN family of networks that broadcasted the championship. The Bulldogs' obliteration of the inferior Big 12 program resulted in the least-watched CFP National Championship on record.
Viewership presumably would have been worse if it had not been for legal sports betting across the US.
Georgia bullied the Cinderella Horned Frogs and had the game wrapped by halftime up 38-7. But despite the second half being a victory lap for the top-seeded 'Dawgs, sportsbooks reported steady betting activity during the final 30 minutes of play.
Game Over, Bettors Carry On
Simplebet is a leading business-to-business provider of micro-betting lines. The turnkey software developer calculates odds on thousands of in-play betting markets and delivers those odds to customer-facing sportsbooks.
Simplebet's micro-betting offerings for the title game included wagering on what play Georgia would call next, or what the outcome of the next play would be. Simplebet told Casino.org that despite television viewers fleeing the game, as Georgia increased its complete dominance over TCU, micro-betting activity didn't flutter.
Simplebet said 46.6% of its total bets and 50.1% of the overall handle wagered came in the second half of the CFP National Championship. The slim majority of the total money bet coming in the second half was likely because bettors taking Georgia as the game progressed had to wager significantly higher amounts to make even a small return as the Bulldogs' odds shortened.
Though it was the least-watched CFP title game ever, Simplebet said it experienced a 226% year-over-year increase in total wagers to 158,000 bets placed during the game.   
Simplebet revealed that it took nearly $4 million in bets during the game. That marked a $1.7 million increase from the 2021 game, which Georgia also won.
Even though the end result was a formality from half time, due to the nature of our markets, we were able to keep players engaged and entertained throughout," said Simplebet CEO Chris Bevilacqua.
Simplebet's sportsbook partners include DraftKings, bet365, Caesars Sportsbook, and Betr. Micro-betting, sometimes called "next-score" or "next-play" betting, is legal and operational in 12 states.
Popular Bets
Simplebet said its most popular bet during Monday's game was predicting the outcome of a drive — with a touchdown, field goal, missed field goal, punt, or turnover being the betting options. The championship capped off a successful college football season for Simplebet, which counted a total of more than 2.1 million micro-bets.
There is no off-season for Simplebet, however, as the micro-betting facilitator is amid its most robust in-game offering for the NCAA college basketball season. Simplebet is producing in-game betting lines for more than 2,500 college basketball games this 2022-23 season.
The college basketball season will culminate in early April with the NCAA Division 1 Men's basketball tournament dubbed March Madness.