Posted on: February 23, 2023, 03:42h. 
Last updated on: February 23, 2023, 03:42h.
The former Majestic Star Casino Hotel in Gary, In., is set for demolition. But before the 300-room, four-story structure is brought down, the property is being utilized for SWAT and police training exercises.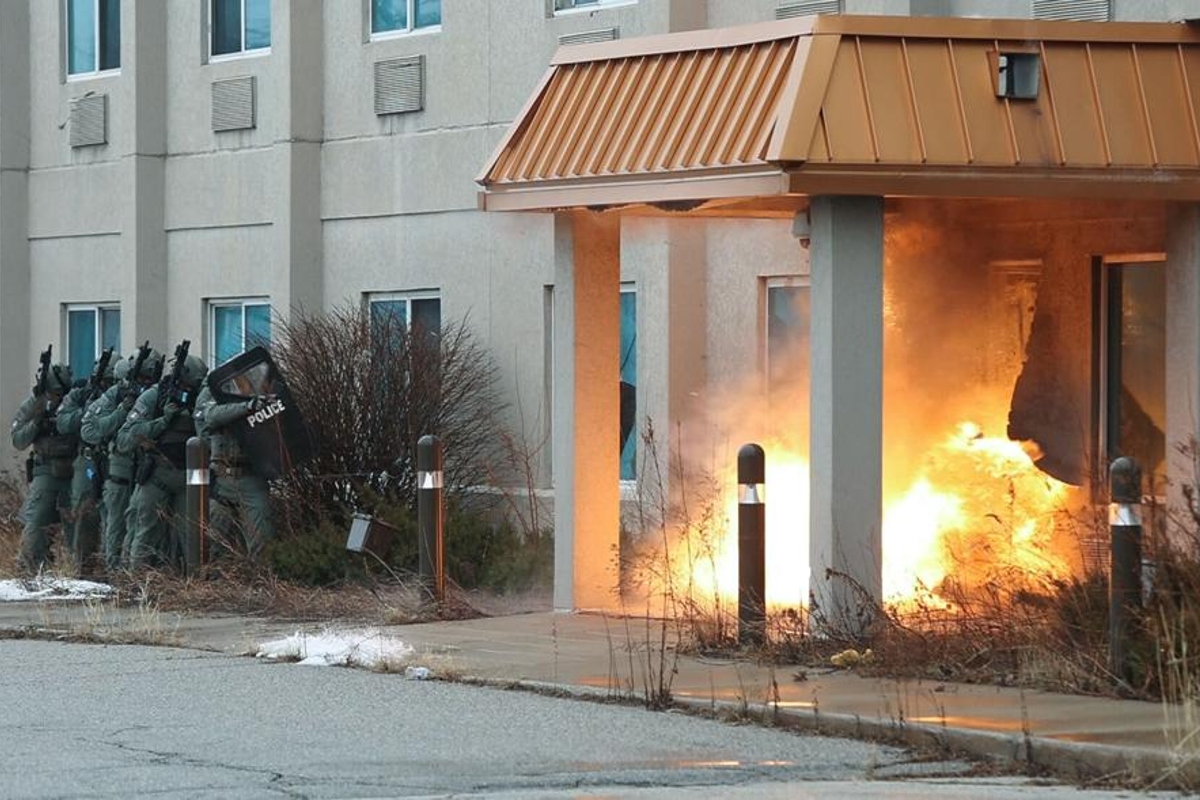 Organized through US Sen. Mike Braun's office (R-Indiana) in conjunction with Gary city and law enforcement officials, the vacant Majestic Star Casino Hotel is serving as a training ground for first responders. The Chicago Tribune reported that the Northwest Regional SWAT and Gary SWAT teams were on site yesterday where they conducted a series of exercised raids in full riot gear.
You can't beat this. There is nothing like real-world experience," said Gary Police Department Sgt. Marlin Gray.
On Wednesday, the SWAT teams ran a series of exercises with controlled explosions and resistance from simulated threats. Over the next 45 days, Gray said personnel from 12 different agencies will conduct 20 more training exercises. Such drills are to include live shooter, sniper, and bomb threat response scenarios.
Casino Demolition Imminent
The Majestic Star consisted of two casino riverboats on Lake Michigan when the property closed in April 2021.
The original Majestic Star opened in June 1996. Donald Trump opened the Trump Casino next door that same year. The casino boats offered gaming excursions on Lake Michigan until Indiana legalized gambling and stationary riverboats in 2002.
Majestic Star's parent company, Spectacle Entertainment, an Indiana-based gaming operator, acquired the Trump boat in 2007 and renamed it Majestic Star II. Combined, the boats offered six levels of gaming with nearly 2,000 slot machines and 50 table games.
Indiana lawmakers further eased the state's casino restrictions in 2015 when a bill was passed authorizing land-based casinos.
Spectacle agreed to be acquired by Hard Rock International in 2019. Hard Rock opted to shutter the Majestic Star casinos and relocate the company's Indiana gaming license inland. The company opened the land-based Hard Rock Casino Northern Indiana in downtown Gary in May 2021 at a cost of $300 million.
Hard Rock has since sold the shuttered Majestic Star Hotel to Transport Properties, a company that says it specializes in developing and enhancing properties for trucks, buses, construction, and materials storage.
Transport is planning to demolish the casino hotel to make way for an outdoor secured semitrailer parking facility. But before the property is brought down, Transport Properties founding partner Tim McCahill agreed to allow law enforcement to conduct drills and training on the grounds.
Oct. 1, 2017
The US gaming industry was forever changed on Oct. 1, 2017, when a madman armed with an arsenal of weapons opened fire on a country music festival on the Las Vegas Strip from his 32nd-floor suite inside Mandalay Bay.
Major casinos across the nation have since made considerable efforts to improve their security operations and emergency responses.
MGM Resorts, which operates Mandalay Bay and owned the Las Vegas Village when the shooting occurred, created its own version of a SWAT team in the immediate aftermath. The largest operator of casinos on the Las Vegas Strip hired numerous former SWAT members of the Metropolitan Police Department to head up its emergency response team.
"MGM developed an Emergency Response Team Program as part of our commitment to continuous improvement of daily operations and to assess and address security risks," said MGM spokesperson Debra DeShong.