Posted on: July 30, 2023, 08:04h. 
Last updated on: July 30, 2023, 08:04h.
A 19-year-old spent the weekend in custody after he was apprehended on Friday for a fatal shooting. It took place near the Las Vegas Strip earlier this month.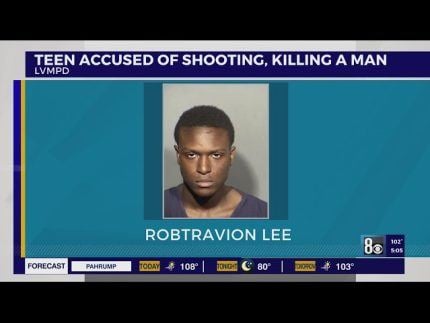 Robtravion Lee allegedly shot a man in a West Sahara Avenue parking lot, west of the Strip, on July 7.
He is facing several charges.
These include open murder, three counts of robbery with a deadly weapon, and burglary while in possession of a deadly weapon, according to Las Vegas TV station KSNV.
Lee was booked at the Clark County Detention Center. He is scheduled to appear in court on Monday.
He has yet to enter a plea in the case. If convicted, he could face decades in prison.
Wound to Torso
The victim, Tymere Snead, 23, was rushed to University Medical Center with a gunshot wound in his torso.
He was declared dead while at the hospital. An autopsy confirmed the shooting was a homicide.
After the shooting, Lee fled the crime site, which is located between the Allure Las Vegas Condos and the Golden Steer restaurant.
Officers searched the crime scene for evidence and for witnesses.
They then identified Lee as the suspect.
The motive in the crime appears to be robbery. It is unknown if the victim struggled with the suspect or if Lee was able to steal any of the victim's cash.
Officer Had Sex With Ex-Con
A one-time Nevada Parole and Probation officer allegedly had sex with a woman on pain killers while in a Las Vegas hospital room.
The officer, Allery Marquez Espino, 40, was arrested on Monday.
He was charged with a law enforcement officer engaging in sexual conduct with person who is under arrest or detained, according to the Las Vegas Review Journal.
He is scheduled to appear in Las Vegas Justice Court on August 31.
He apparently met the woman for the first time while she was in the hospital in 2020.
He was assigned her case. He introduced himself to her.
She Was on Painkillers
At the time, the woman was medicated with fentanyl and morphine as pain killers after surgery.
The two soon began to flirt. They gave each other their phone numbers and texted.
The woman sent a photo of her dressed in lingerie to Marquez Espino. He sent her a photo of his penis to her.
During an exchange on WhatsApp, he said he "wanted to sneak into the hospital and have sex with her" and "wanted to tie (her) up and choke her during sex," according to an arrest warrant.
The woman told him to come to the hospital and "pretend" to do an official check on her.
So, he went to her room, lay down in the hospital bed with her, and the two had sex, police said. He was wearing a law enforcement uniform and vest when he began the sex-capade.
Marquez Espino later told her he would get her a different probation officer and that way they could keep on seeing each other. A new officer soon took over her case.
But as the pain killers were lessened, she came to realize sex with the officer was a mistake. She believed she had been "taken advantage of," the warrant stated.
Soon, she was arrested for violating her parole because she did not report her new address.
Judge, Cops Notified
She later told a judge what the probation officer did to her. The judge told her to file a complaint or a case.
She claimed a complaint was filed with Parole and Probation's human resources department.
Later, a police officer at a jail heard her say she had been sexually assaulted by her probation officer. The officer told a police sergeant.
The sergeant told detectives, who went to see the woman and she revealed her allegations. Marquez Espino eventually resigned from his job.