Posted on: July 11, 2023, 06:59h. 
Last updated on: July 11, 2023, 06:59h.
A Kansas City Chiefs "super fan" who goes by the name @ChiefsAholic and attends games dressed as a wolf has been arrested in connection with a string of bank robberies. Xaviar Michael Babudar, 28, is suspected of hitting banks across the Midwest and then laundering the proceeds through casinos.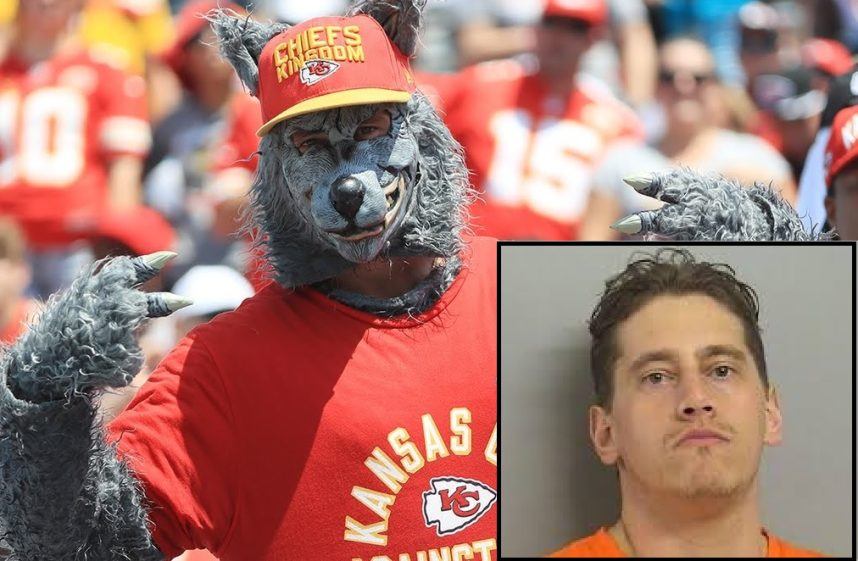 From April to December 2022, Babudar bought more than $1 million in chips from casinos in Missouri, Kansas, and Illinois, according to court filings.
"Over that same time period [he] redeemed a similar amount from said casinos," the documents claim.
Babudar was a familiar sight at Chiefs games and was often picked up by TV cameras. But he was also a troubled individual who had a difficult upbringing, according to an ESPN investigation.
Fugitive Arrested
He was initially arrested in December 2022 on suspicion of robbing Tulsa Teachers Federal Credit Union in Oklahoma of $150,250.
He was released on bond in February this year and ordered to wear an ankle monitor. But he removed it and went on the lam.
This landed him on the Greater Kansas City Crime Stoppers most wanted list and prompted prosecutors to issue a $1 million bond warrant. He was labeled an "extreme risk to the public."
Babudar was arrested by federal agents Friday in Lincoln, Calif., and charged with one count of bank theft and one count of transporting stolen property across state lines in connection with the Oklahoma robbery.
While he was on the run, investigators looked at unsolved bank robberies and casino transaction records to assess the extent of his potential criminal activity.
They concluded he "would travel to various locations throughout the Midwestern United States to perpetrate a string of robberies at various banks and credit unions before returning home to the Kansas City Metropolitan area to launder these robbery proceeds through area casinos and deposit these proceeds in his various bank accounts."
Six More Robberies
In addition to the bank robbery in Oklahoma, the affidavit connects him to six other robberies and attempted robberies in Nebraska, Iowa, Tennessee, Oklahoma, and Minnesota. In total, authorities say Babudar stole more than $800,000.
Investigators discovered his cellphone was in the same cities and locations as the robberies at the time they occurred.
The case will be presented to a federal grand jury to determine whether to return an indictment on these or any additional charges, federal prosecutors said in a news release.