Posted on: June 11, 2023, 04:26h. 
Last updated on: June 11, 2023, 04:26h.
Come on, Barbie. Let's go party…at the El Cortez in downtown Las Vegas. The casino hotel's Jackie Gaughan Suite features a room splashed in the iconic that's long been a staple of the famed Mattel doll.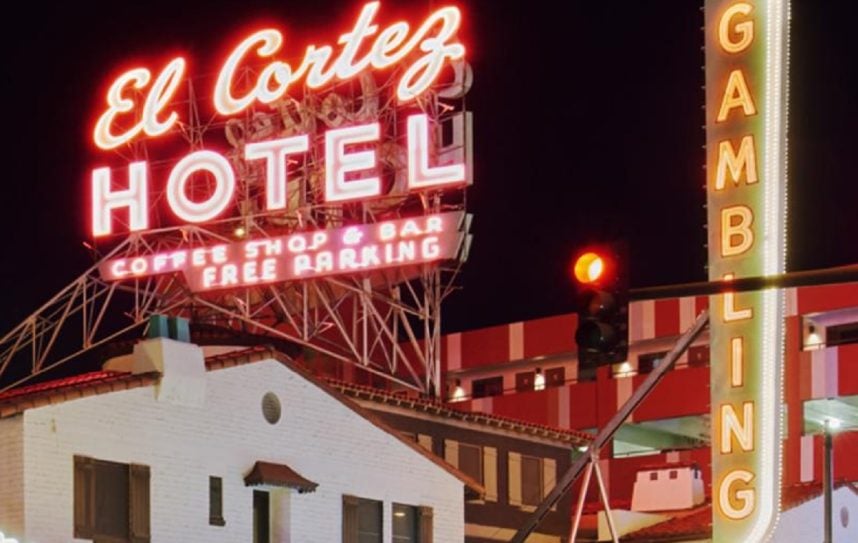 It's good timing, too, because the Barbie movie, starring Margot Robbie in the lead role, is slated to be in theatres on July 21. Simu Liu, Ryan Gosling, Helen Mirren, Ariana Greenblatt are among the costars in the Warner Bros. film.
As for the room at the El Cortez, the Jackie Gaughan Suite is viewed as one of the glitzier set of accommodations on Fremont Street.
Once the residence of the legendary Jackie Gaughan, our former owner, and his wife, Bertie, this penthouse suite is the crown jewel of the El Cortez. Unlike anything else in Las Vegas, this apartment features a massive living room with original figures handpicked by Mrs. Gaughan, an amazing dining room with immaculate white marble table, a stunning bar and lounge area with a breathtaking view of Las Vegas, and two master bedrooms and bathrooms that have to be seen to be believed," according to the El Cortez.
The El Cortez opened in November 1941, making it the oldest casino hotel in Las Vegas. The venue opened on Nov. 7, 1941 – one month before the attack on Pearl Harbor that prompted the US to joined the Allied forces in World War II.
El Cortez, Barbie Tie Interesting Because…
El Cortez leveraging the Jackie Gaughn Suite as play on the Barbie movie because Barbie is a child's toy and, well, El Cortez is an adults-only venue.
The venue adopted that policy on April 1, 2022. Circa — a downtown neighbor to El Cortez — kicked-off the adults-only movement when it opened in October 2020 and other properties have followed or rolled out accommodations that cater exclusively to adults.
Gaming industry veteran Kenny Epstein owns El Cortez. The venue has some of the richest history of any casino in Las Vegas as it was acquired by notorious gangsters Meyer Lansky, Bugsy Siegel and associates in 1945.
Jackie Gaughan Suite Has Interesting History, Too
The Jackie Gaughan Suite has its own compelling history.
"The retro architecture and design come together perfectly, making for a great tribute to both the visionary Jackie Gaughan and to the El Cortez itself," added El Cortez. "The Jackie Gaughan Suite is such a one-of-a-kind slice of vintage Las Vegas, it was the setting of Ellie Goulding's hit music video "On My Mind." Come live it up like a Las Vegas casino mogul, and enjoy an unparalleled experience with an unforgettable and iconic setting in the Jackie Gaughan Owners Suite."
The suite is also pricey. It's available only be request and is believed to cost a $1,000 a night during the week and $1,500 nightly on the weekends.