Posted on: July 3, 2023, 04:24h. 
Last updated on: July 3, 2023, 04:24h.
In Monday's abbreviated trading session, DraftKings (NASDAQ: DKNG) stock closed lower by 1.58%, but it's still higher by 35% over the past 90 days and 129.59% year-to-date.

Impressive numbers to be sure and those figures could imply the gaming stock is ripe for a pullback. Throw in weak seasonality — football season is two months away — and some near-term retrenchment by DraftKings stock wouldn't be surprising. On the other hand, the stock's technical outlook might be signaling a more positive near-term scenario, particularly with a recent close above the mentally important $26 level.
The sports gambling name is also breaking out of a weekly base or cup pattern, while boasting long-term support from its ascending 20-day moving average. Whenever the latter has failed this year, the 50-day trendline has stepped in as a floor to contain price action," according to Schaeffer's Investment Research.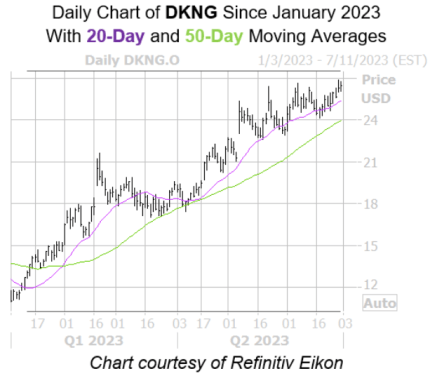 The more time DraftKings spends above $26, odds shorten that the stock will eventually make its way to $28 – a price point not seen since early 2022.
Options Market Signals on DraftKings Stock
Due to its status as an emerging growth stock and one with a penchant for occasionally significant, event-driven moves, DraftKings is often a favored target of options traders.
As such, the options market can provide valuable insight as to what's in store for shares of the online sportsbook operator over the near-term. That may be happening right now.
"It's also worth noting that DraftKings stock boasts affordably priced premiums, per its Schaeffer's Volatility Index (SVI) of 44% that sits at the extremely low 1st percentile of annual readings. In simpler terms, now looks like a great opportunity to bet on the equity's next move higher with options," added Schaeffers.
The research firm also pointed out that peak open interest in DraftKings $25 strike puts is elevated. That could be a sign that professional traders that are long the stock are looking to hedge those positions and that $25 could be an area of support in the event the gaming stock experiences a near-term pullback.
Events That Could Move DraftKings Stock
DraftKings is scheduled to deliver second-quarter earnings on Friday, Aug. 4 and it should be noted that the stock has developed a reputation for large post-earnings moves.
That scenario could repeat next month, particularly if the company reveals that it's nearing positive earnings before interest, taxes, depreciation and amortization (EBITDA), again raises 2022 revenue guidance, tightens its timeline to profitability or all of the above.
It's possible that the operator's time frame to turn profitable will be trimmed because Kentucky and North Carolina will launch online sports betting early next year. For now, those events likely aren't needle movers for DraftKings, but analysts and investors would likely be satisfied with positive EBITDA and more evidence that costs are being controlled and reduced.