Posted on: January 9, 2023, 02:45h. 
Last updated on: January 9, 2023, 02:45h.
The Brooklyn Nets are the hottest team in the NBA right now, but they might cool off over the next four weeks while All-Star forward Kevin Durant recovers from a right knee injury.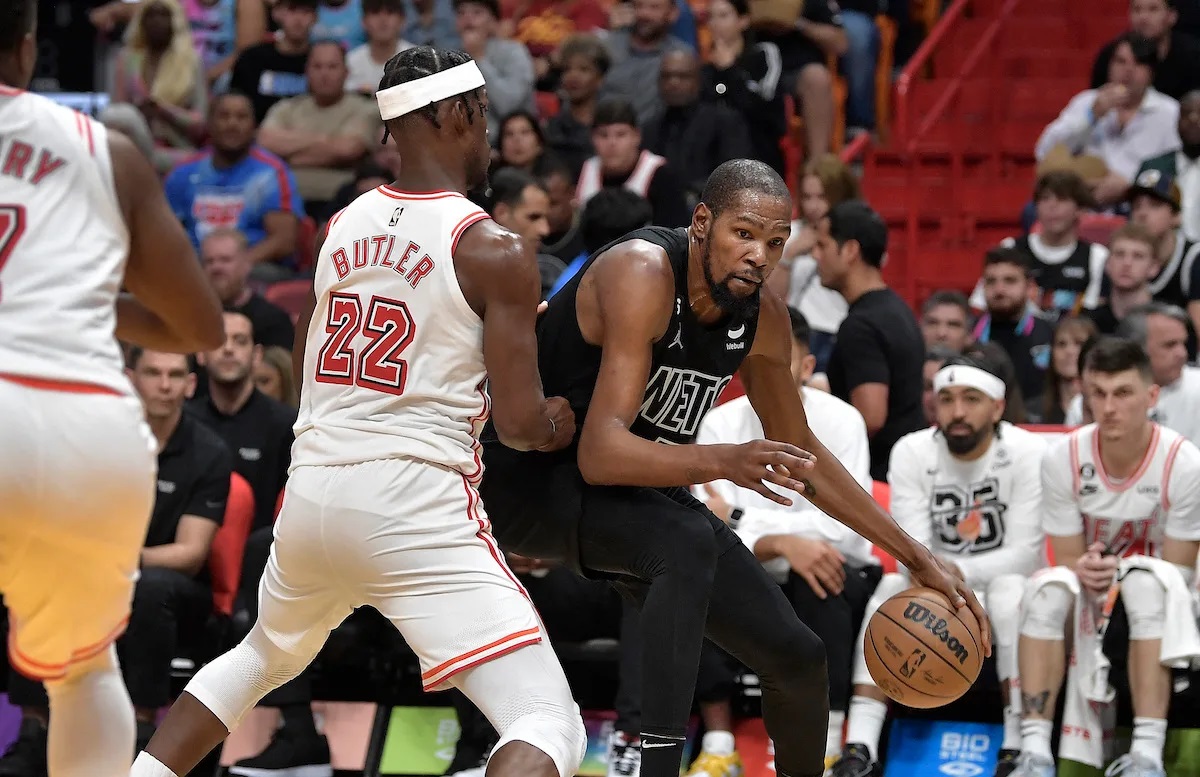 The knee injury occurred on Sunday night when teammate Ben Simmons fouled Jimmy Butler from the Miami Heat, who tumbled into Durant in the third quarter. Durant limped off the court and never returned to the game. On the previous play, Durant also banged his knee during an offensive possession when he ran into Kyle Lowry.
Durant underwent an MRI on Monday, which confirmed a sprained MCL on his right knee.
"He's in good spirits, as we all are," said teammate Kyrie Irving. "The strength of our team is us picking each other up and just being ready for whatever is thrown at us."
It's was considered a mild injury according to an initial report, with Durant expected to only miss two weeks. However, ESPN's Adrian Wojnarowski reported that Durant could miss four weeks with his most recent injury.
Head coach Jacques Vaugh will lean on his bench to fill in for Duran. Expect forwards Yuta Watanabe (7.3 ppg) and TJ Warren (9.9 ppg) to get more playing times. Irving will shoulder more of the scoring load, but it's also a chance for Simmons to step up with additional offense.
Nets 18-2 Over Last 20 Games
The Nets struggled in the first quarter of the season, and were 9-11 in late November. Since that low point of the season, they went 18-2 and won 12 consecutive games.
The Nets are currently the #2 seed in the Eastern Conference playoff standings with a 27-13 record. They also moved into second place in the Atlantic Division and trail the Boston Celtics by one game. With 27 victories, the Celtics (28-12) are the only other team with more wins than the Nets.
The Celtics are a huge favorite to win the Atlantic Division at -450 odds, according to a recent update by DraftKings. The Nets are +320 odds to win the division despite a one-game margin.
During their recent upswing, the Nets improved to +550 odds to win the 2022-23 NBA Championship. Only the Celtics have better odds championship odds at +360.
The Nets also saw an uptick in Eastern Conference odds, and they're now +280 to secure a conference crown and advance to the 2023 NBA Finals.
Another Knee Injury for Durant
Durant missed 21 games last season with an MCL injury. He sprained his left knee last January, which kept him out for six weeks. The Nets saw their season go off the rails without their leading scorer and the Nets went 5-16 without Durant last winter.
Prior to his recent knee injury, Durant was surprisingly healthy this season and appeared in 39 games and missed only one. That was not the case during his stint with the Nets.
Durant tore his Achilles tendon in the 2019 NBA Finals when he played for the Golden State Warriors. He joined the Nets the next season in a sign-and-trade, but missed an entire year in 2019-20 while he recovered from a torn Achilles.
During his first season with the Nets, Durant appeared in just 35 games in 2020-21 and missed 37 games during a pandemic-shortened season. He averaged 26.9 points, 7.1 rebounds, and 5.6 assists per game, while shooting 45% from 3-point range.
During the 2021-22 season, Durant missed 27 games, including 21 with a knee injury. He averaged 29.9 points, 7.4 rebounds, and 6.4 assists per game.
In 39 games this season, Durant averages 29.7 points, 6.7 rebounds, 5.3 assists, and 1.5 blocks per game. He's shooting a career-best 55.9% from the floor and an impressive 93.4% from the free-throw line this season. His 3-point shooting is down from the last few seasons, and he dipped below his career average with 37.6% this season.
On Deck: Celtics, Thunder, and a 5-Game Road Trip
If the Nets sit Durant for four weeks, he will miss the next 12 games. If they keep him out until the All-Star Break, he could miss 18 games.
Only seven opponents between now and the All-Star Game have a winning record, so the Nets could take a conservative approach and provide Durant with seven weeks of rest. Of course, if it were up to Durant, he'd play as soon as possible and only miss a couple of weeks of action.
The Nets play only two games over the next eight days. They host the Celtics on Thursday in a battle between the top two teams in the NBA. On Sunday, the Oklahoma City (18-22) Thunder visit the Big Apple.
After those two home games this week, the Nets leave home for a five-game road trip. They play four Western Conference opponents including the San Antonio Spurs (13-27), Phoenix Suns (20-21), Utah Jazz (20-23), and Golden State Warriors (20-20). They end their road trip against the Philadelphia 76ers (24-15).
The Nets close out the month of January with a three-game homestand against the Detroit Pistons (11-32), New York Knicks (22-18), and Los Angeles Lakers (19-21).