By Simon Wright Nov 18, 2022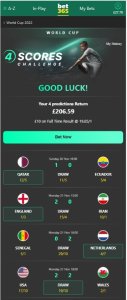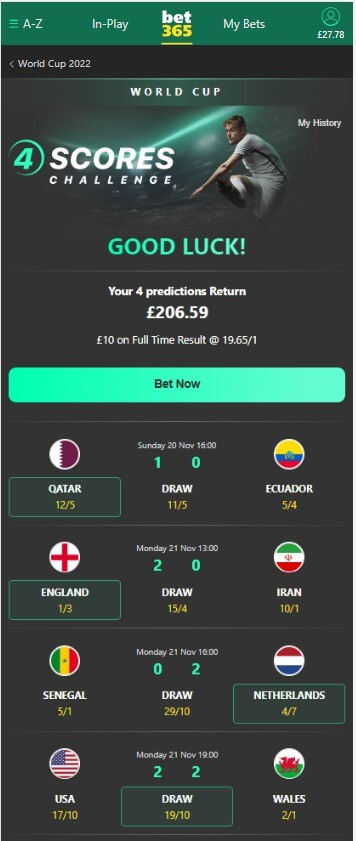 With the World Cup just around the corner, Bet365 have ramped up the excitement by launching a daily predictor game for the tournament, called '4 Scores Challenge'.
This is yet another collaboration with long-term partners Incentive Games – the industry's leader in premium free-to-play games.
'4 Scores Challenge' does exactly what it says on the tin: offering users prizes for predicting four scores. bet365 successfully launched the '6 Scores Challenge' at the start of the 2022/23 Premier League season, with hundreds of thousands of players taking on the prediction challenge each weekend.
During the World Cup, prizes of up to £250 are on offer each day, but users don't have to get every prediction right to win – with three correct predictions earning £10, and £2.50 awarded to those with two correct forecasts.
The innovative new game offers football fans a brilliant, free game to play each day of the World Cup, with generous cash prizes available.
John Gordon, CEO and Co-Founder of Incentive Games said: "We are privileged to roll out this incredible title across the bet365 app and website – we're so proud of it.
"Here's a prediction from us: with its generous cash prizes, despite being free, 4 Scores will become a real fans' favourite during the World Cup."
A spokesperson from bet365 said: "We're thrilled to announce the launch of '4 Scores', in association with our partners at Incentive Games. At Bet365 we love to enhance the enjoyment of live sporting events for our customers, and there are none bigger than the World Cup. Good luck to all players with their predictions!"